CNC Angular Wheel Grinder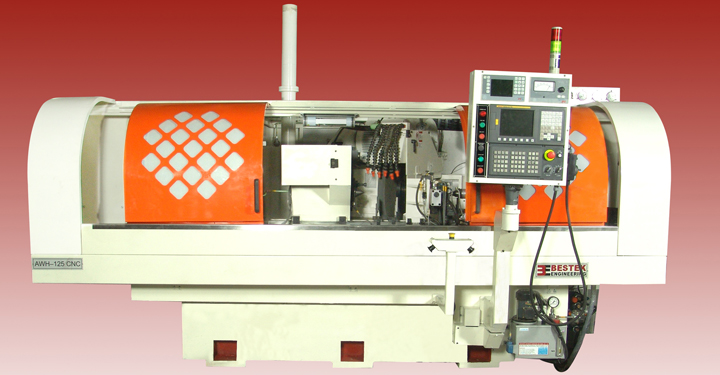 | | |
| --- | --- |
| Center Height | 125/150 |
| Dist. between Center | 1000/1600/2000 |
| Max Wheel width | 150/200 |
| Cutting Speed(MPS) | 45/60 |
A heavy duty series with most precision grinding application, suitable for Straight Wheel Head and Angular Wheel Head grinding requirements. Rigid spindle suitable for higher cutting 60mps, bigger wheel for wide ground areas. Larger swing diameter up to 350mm. (500mm also available as optional), Wheel OD up to 760mm. Ideally suitable for Crankshafts,  Knuckles, Longer motor shafts and Axles. User friendly screens also available for  easy  and fast setup and program corrections.
Suitable for single plunge, profiled wheel or multiple plunge.  Ideal industrial application is grinding of Gear End & Flange end of crankshafts (multi-cylinder) and Main axle grinding.
High static and dynamic stable machine structure using Damping Concrete Polymer Composite Machine base, most effective for vibration sensitive application.
Highly rigid Work Head & Tailstock for stability during grinding of unbalanced parts.
Dynamically and thermally stable wheel spindle with wheel OD of 760mm and width up to 250mm.
Lifetime protection of wheel spindle against entry of fumes and coolant.
Most effective lubrication system, interlocked with cnc system.
Depending upon models machine is available in capacities (ABC – 600mm to 2000mm).
Machines are with high response guide-ways with very precision micron response.
Dressing system thru diamond disc / roll is optionally available.
Tailstock with higher stroke up to 150mm is available as optional.
Built-in motor wheel spindle are also available on request.
User friendly interface.
Lowest running cost.
Production monitoring.
Eco friendliness.